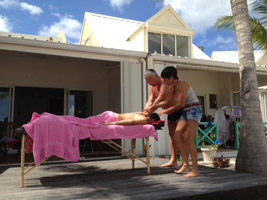 Everyone can enjoy an introduction to well-being massages, a shared moment of relaxation and learning. Great company and an excellent atmosphere!
With friends or family, we can organize well-being massage classes for everyone.
After the course, you will:
be able to give full, well designed massages using different traditional techniques.
receive a free massage kit.
receive a personalized certificate as proof of your participation.
not only have enjoyed your time with us, but also continue to enjoy your new skills throughout your vacation and beyond!
Your choice of classes on:
massage tables
massage chairs
Classes can take place wherever you'd like:
at your location's area
at home
Duration: 4 hours
Rates: start at 150€/person (*For 4 people)