Find the serenity of your place of life and your balance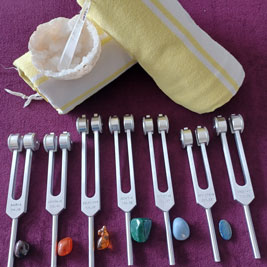 Sound therapy and lithotherapy
The harmonization of the subtle bodies re-establishes an energy rebalancing up to the cells and brings regeneration and cellular revitalization, opening the planes of consciousness, and the most perceptible effect: relaxation, appeasement and well-being.
Find vitality and serenity
Reassemble and replace the energies of the body
Stimulate your energy, cope with emotions and strengthen your immune system
Healing and soothing pains.
Strengthening of the energy centers (chakras) allowing the body to distribute its own healing energy to the area where it's most needed with the help of the 7 chakras tuning forks.
Associated sound therapy and lithotherapy: The use of stones charged and used according to each chakra.
Tuning forks 7 chakras: Each chakras has a vibration, a specific frequency. The tuning fork associated with the chakra resonating at the same frequency, will stimulate, unblock and rebalance the energy of each chakra.
Body and Spirit Harmonization Massage: 1h30
Treatment including different techniques to find the balance of 4 bodies (physical, spiritual, mental and emotional)
Cleaning of Energy Champ Corporal with the Set of Angels (therapeutic tuning forks)
Useful massage to eliminate bodily and emotional tensions and allow an opening to universal energy
Harmonization of chakras with rock crystal amplified by sound therapy with tuning fork